Happy New Year! The year has changed and so should be our priorities of using new and more advanced SEO tools for ranking our website top on Search Engines. Today, in this article we would learn about best SEO Tools in 2022 to use for all our personal and professional needs.
A SEO Tool assists us in many of our Search Engine Optimization Tasks (SEOT) like Keyword Research, URL Inspection, Finding Backlinks and a lot more.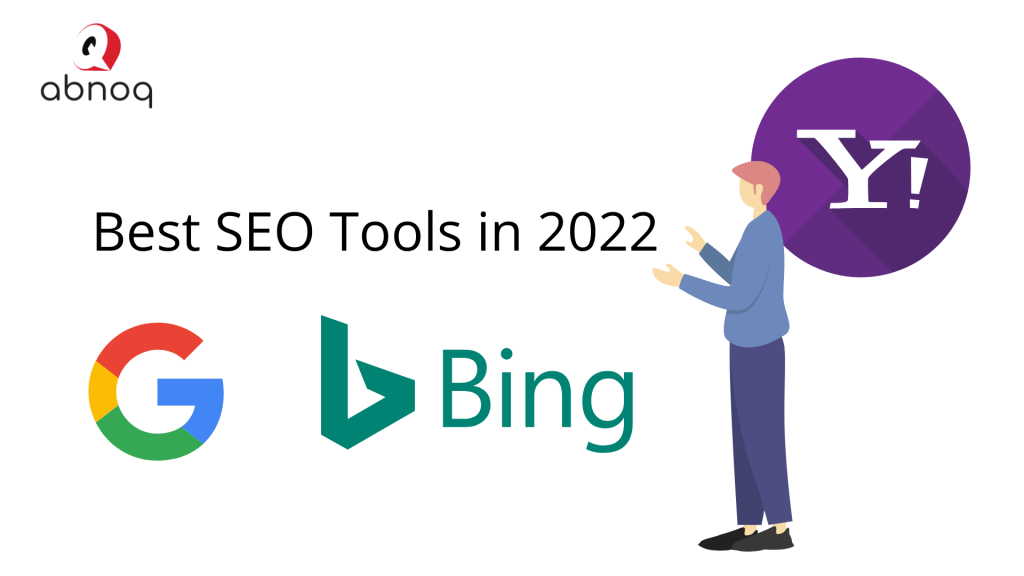 List of 5 Best SEO Tools to Use in 2022
Out of so many tools present on the Internet, it is hard to rank top 5 of them. But after a lot of research and hard-work, I have managed to list some of the must-use Search Engine Optimization Tools in 2022. The list has been purely developed on the basis of features and efficiency that these SEO tools offers to the User.
1. Ahref – SEO Tools & Resources to Grow your Search Traffic
I have awarded the Ahref rank#1 because of the following reasons:
It offers immense number of features that cover almost every need of SEO.
Ahref has a Trial Period of 7-Days which can be availed for free.
It has its own learning materials which teaches you how to use Ahref and it comes under no-cost.
Talking about the features, we can Optimize our Site by Using Ahref Site Audit, we can analyse our competitors by using Site Explorer, can explore keywords by using Keyword Explorer, also it comes with other tools like Content Explorer, Backlink Explorer, Rank Tracker etc to completely optimize our website both on-page and off-page.
Possible Drawback: Quite Costly compared to other SEO Tools on the Internet.
2. Semrush – Online Marketing Tool
Semrush can be a great alternative to Ahref as it offers almost similar features in a cheaper cost (Compared to Ahref). Be it be SEO or Content Marketing, Market research or Advertising, the Semrush toolkit is a perfect fit for all cases. I have placed it on rank #2 because of the following reasons:
Helps not only in SEO but also in running PPC Campaigns.
Users get a detailed report of the Website Audit which contains almost every information that is required.
Its Content Suggestion Tool: The content suggestion tool helps beginner in getting started with writing a SEO Friendly Content without any prior knowledge of Search Engine Optimization techniques.
Talking about features, Semrush offers Keywrod Research having more than 20 billion keywords in its database from about 130 countries, It will help in On Page SEO, Rank Tracking can be used to track the keywords that are performing well on the Internet.
Possible Drawback: Quite costly compared to other SEO Tools on the Internet.
3. Moz- SEO Software for Smarter Marketing
Moz is one of the most old and reliable Search Engine tool present on the Internet with more than 43.1 Trillion links stored in its database. It can be considered as one of the best SEO Tool to outrank your competitors. Following features of moz tool will make you fall in love with it:
The price of the tool is very less as compared to Ahref or Semrush and it still covers almost every feature.
Best for Keyword Research Tool and better in business than 90% of the tools on the Internet.
Has a Free-Trial system for users to test its efficiency.
It has features like Site Audits, Rank Tracking, Backlink Analysis, Keyword Research and more. Moz Advertises that one can seamlessly add, manage, and create keywords list at one place. Domain Authority and Page Authority indexes are measured by Moz itself and nothing could give users the better picture of that than Moz SEO tool itself.
Possible Drawback: None Encountered.
4. Sitechecker- Website SEO checker & Audit Tool
Sitechecker as reflected by its name is an all-in-one SEO tool for complete website audit. It even monitors changes on your website which is great for tracking record of all the updates you make to your website. If some update negatively affects the Website SEO, Sitechecker can be used to take action and correct the issue. It has the following features to offer to its users:
Site monitoring is one of the feature that impressed me the most.
Comes with a 7-Day Free-Trial
A very easy to use Dashboard which assists beginners a lot.
It comes with features like Site Monitoring, Rank Tracking, Backlink Tracker, Traffic Checker and a lot more features. It even enables the users to download branded PDF reports which can be shared inside an organization and is easy to read and understand.
Possible Drawback: Results might not be as accurate as of tools mentioned above.
5. Longtail Pro
As the name sounds, this tool helps in doing the research work for finding long tail keywords with high traffic. It is difficult for new websites to rank higher on the Internet with short length keywords. To build the authority over the Internet, a website needs Traffic. This traffic could be gained by targeting long tail keywords like – Best SEO Tools in 2022
And this is where Longtail pro comes into play.
You just need to enter the Seed Keyword (Small Keyword) and it will suggest you over thousands of long tail keywords matching your query. It even displays the amount of traffic those keywords get on the Internet.
Summary
You can use the above listed SEO Tools in 2022 to extract best out of your online business. These tools are being used by millions of the people on the Internet and it might be your turn now. The definition for good SEO tool defers for different people and hence make a wise decision while choosing it. Choose a tool that has all the features that you need to rank your website on the Internet. You do not need to have access to all the tools on the Internet to rank your website. Rather, choose a tool and stick to it for almost 6 months to test its efficiency.
Hope you loved this article. We have more such articles present on our website which can be accessed from here: Blog