eCommerce Website Development expands your sales area to the whole world and also ensures that your business hours are now 24 hours a day, 365 days a year. Unlike a classic website, which primarily serves to provide information and, if necessary, to dialogue with your customers, eCommerce website development ensures that you generate sales and earn money with your website. A new "point of sale" is being created, combined with the possibility of tapping into new target groups.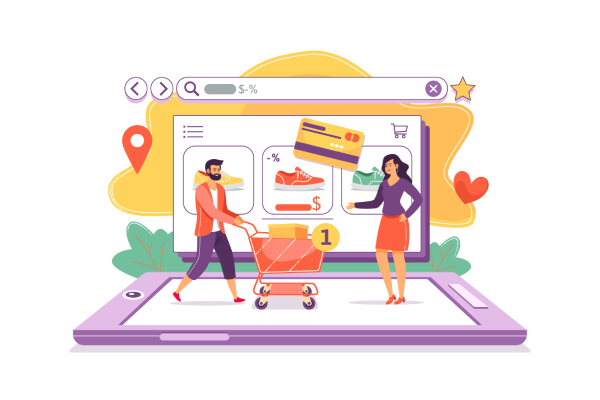 This is what eCommerce website development does
With the eCommerce website development, we go well beyond the pure web development of an Internet presentation. We know that a well-maintained online shop can easily double the turnover of a stationery company. In addition, you can reach people who might never have found their way into your store.
In eCommerce website development, we consistently offer tailor-made solutions. In concrete terms, this means that it also makes a considerable difference in terms of programming, but above all in terms of presentation, whether you sell food, textiles or any other product over the Internet.
Methods of eCommerce website development
In terms of methods, we do not commit ourselves in eCommerce website development. The fact is that most of our websites are based on the easy-to-maintain and contemporary CMS WordPress. Combinations are possible with Magento as well as with Shopify or PrestaShop. We also provide interfaces with BigCommerce or develop custom PHP for you and your individual requirements. We are also happy to design jaw-drop sites and integrate both API and payment functions as well as the entire area of ​​social media. It goes without saying that eCommerce website development also works on mobile devices.
What special features we offer
With us you not only get a simple online shop, but also get to know eCommerce in a holistic way. On the one hand, all of our websites are designed so that you or one of your employees can add and manage new products. On the other hand, you always have an overview of the number of users, hits, the conversion and of course the sales achieved in eCommerce. In addition, you can easily manage customer information and we are happy to program an interface to an existing merchandise management system. When do we start a conversation?
Where we operate?
A leading website development company in India, Abnoq offers cost-efficient, feature-rich, time-saving, and result-driven website development services to its clients. As a top website development company in Kanpur, Abnoq provides its clients with other added top-notch solutions as well. Abnoq is also known as the top website development Ohio company.
Need To Level Up Your Business?
To know more about how we can help you to boost your website's performance, Contact Us.