To have good visibility on the internet, your site must be well referenced in search engines on strategic keywords for your activity. And who says search engine says Google, the world leader in research and more particularly in France where it collects 93% of online searches.
Among the many criteria used by Google's indexing robots, that of a geographic location is becoming increasingly important. Local research is essential today. To help you be visible locally, Google offers a free service for businesses: Google My Business.
We explain in this article how this service works and how to optimize your local SEO with Google my business. The goal is for your business to appear among the first search results.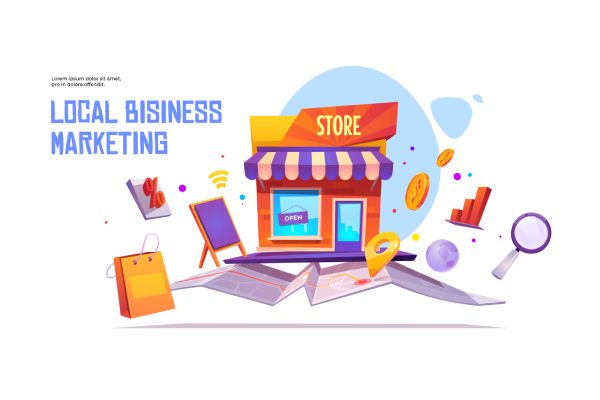 What are the advantages of using a Google my business listing:
At a time when internet consultation is mostly on the go from a smartphone and a very large majority of users get information on the internet before going somewhere, each company is required to have a Google my business listing. informed and updated.
Users are looking for it and waiting for it.
It is therefore an opportunity to communicate locally and at a lower cost to a targeted audience located nearby.
If your business is poorly or poorly referenced in Google, it is also a fast and free way to be on the first page when on geolocated requests.
It is finally a way to generate qualified traffic to your website
How Google my business works:
Google uses the geolocation of your IP address to provide you with results from nearby businesses based on your search.
Also visible on Google Maps , Internet users can immediately locate your business to get there, call you or even consult your website.
Create your Google My Business (GMB) listing
This sheet is intended to list your business . If you don't have one yet, you must first have a Google account (a gmail address). Then, go to the Google My Business site by logging into your Google account, and complete the form for creating Google business listings . In a few clicks your file will be created but not immediately visible. Indeed, before being published, Google verifies the address of your company by sending you a validation code by post within 5 days. Once received, you just have to enter this code to validate the uploading of your file
Five tips for optimizing your GMB file
In order to improve your local SEO , you need to optimize your Google business listing . The local SEO is often the first source of traffic to your website. Here are some tips to help you optimize it:
1) Provide as much information as possible about your establishment
It is very important to complete your Google listing properly . You will need to fill in the name of your company, your main business category, your address, your contact information, and your opening hours.
The address or the target area defined when creating your form is paramount to your local SEO and local SEO . It is on the basis of this geographic location that you will appear in the search results.
Fill in as much information as possible. Between two files, Google will give the first to the file that is best to complete, always with the aim of answering the requests of its users as well as possible.
2) Choose the right activity category
Be sure to fill in the correct main category for your business. It is sometimes not easy to find in the list predefined by Google a category which corresponds exactly to your activity. Try to get as close as possible to it and specify if necessary by secondary categories.
The right choice of activity will be decisive in increasing your chances of appearing in the local pack , namely the answers that appear in a box before the search results.
3) Don't skimp on the photos
Enriching your GMB listing with photos will set you apart from your competitors. You will attract more visitors with images of your business (interior and exterior), photos of your activity, or even a menu if you are a restaurant owner.
4) Solicit customer reviews
With your Google business listing , customers can leave a star rating (rating) but also a comment. Google's algorithm is very sensitive to ratings and takes them into account for your SEO . After geolocation, the criterion of Google reviews is the second most important. It should not therefore be neglected. Do not hesitate to ask your customers to leave comments on your Google business listing . It is both the quantity of reviews posted but also your responses to these reviews that will have an impact on your score and your display rank.
Regarding slanderous or unfounded opinions, it is important to respond to them so that they do as little as possible to damage your reputation.
5) Post news
You can keep your Google listing alive by posting regular posts . This will invite your audience to spend time on your Google page and further increase your SEO . As part of local SEO, you will carefully choose the keywords that relate to your location. And in general the keywords of your activity .
Summary
To appear in the local Google pack where the most relevant results appear following a geolocated request from an Internet user. It is important to work on these different points:
A well completed and updated Google my business file
An optimized choice of keywords
A choice of relevant activity category
Numerous and answered customer reviews,
Photos and news to promote your business
You now have all the tools you need to know how to optimize your Google My Business listing and improve your Google SEO .
Need To Level Up Your Business?
To know more about how we can help you to boost your website's performance, Contact Us.