When a business is building its online presence strategy, it is necessary for it to think about blog posts. Indeed, in Inbound Marketing, it is recommended to publish articles regularly on the company's website so that the latter can go back to the first pages of Google. And when we talk about these blog posts, we often hear about SEO optimization. Admittedly, compliance with good SEO practices is a sine qua non-condition for being able to appear in the best search engine results. But so is the structure of your article. Because a poorly constructed article, whether optimized or not, will not make the reader want to read it and then continue browsing your site. Here are the different points to follow to build a structured blog post.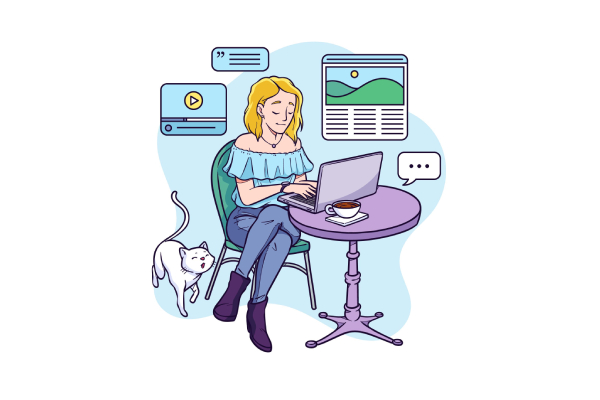 1. Follow a plan
Before starting to write, it is recommended that you make an outline. The latter makes writing more enjoyable and effective because you know which direction you are heading.
Your plan will therefore include:
A title
An introduction
Several paragraphs
And will end with a conclusion
The title
Every article begins with a title. As you would expect, there are thousands upon thousands of articles on the internet. So you have to stand out . And for good reason, when an Internet user does his research, it is the first thing he will read. So, your headline should be impactful. And in the same way, it should make the reader want to click and read the content. The title is also a promise that you make to the reader: it must also obviously introduce the subject of the content that will follow without misleading. Please note that your title must not exceed the limit of 60 characters.
The introduction
These are the first sentences that the reader will read. The introduction is as important as the title since it must attract the reader's attention but above all make him want to continue reading the article. It helps bring the reader to the subject concerned.
Paragraphs
Paragraphs will allow you to divide your body of text into several parts so that the article appears airy and is therefore more readable for the reader. However, each paragraph must be announced by a sub-title. And some of these captions will give rise to different levels of information.
For Google, this hierarchy is categorized by tags H1, H2, H3 … For example, H1 is the highest tag in the hierarchy, it represents the title of your article. H2 is below H1 and represents the captions of your article. And in the continuity, if you want to go even further then you can put H3 which will be used to subtract the levels of information of your paragraph H2. 
As you will have understood, the more you go down in the information levels and the more you will use the lower-level markers. It is recommended to go at least up to H3 in your articles.
The conclusion
It closes the topic and allows you to summarize in a few sentences the main takeaways of your article or to open to related topics that will lead your readers to consume other articles on your site.
2. The content
The content of your article should be pleasant for the reader to read. To do this, be sure to write paragraphs that are not too long and that could discourage the user from continuing reading. When writing, insert transition words between your sentences, and do not make them too long (no more than 20 words per sentence). Also, be sure to have a varied vocabulary to avoid repetitions. To highlight important words, do not hesitate to grease them, they will be more visible to the eye and will attract attention. Finally, favor bulleted lists in your content because they are easy to read for the reader and liked by Google.
3. The illustrations
They are always very popular with Internet users because they are easier and faster to read. So, do not hesitate to insert images, videos, illustrations, or even infographics because they make the article a little more attractive, and take a break from reading. Don't forget to optimize your illustration by inserting alt text. To find out more, see our article on this subject.
4. CTAs
CTAs that are call-to-action buttons are important in your article. It is recommended that you place one at the very end of your essay so that the reader can express their interest if they wish to go further. But you can also place them in the body of your article as long as they keep a relevant function (request for a demonstration, request for contact, etc.).
5. What about SEO optimization in all of this?
As you may have noticed, we've really covered the basics of writing an article. Once all our advice has been applied in this regard, you can then move on to SEO optimization. For this, we invite you to discover our advice to optimize the SEO of your article.
As you will have understood, the structure is the basis of an article that will allow you to move forward serenely toward SEO optimization. Once all these steps are respected, you will only have to optimize it and presto, bet won!
Need To Level Up Your Business?
To know more about how we can help you to boost your website's performance, Contact Us.